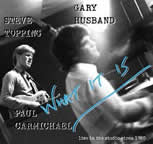 What It Is
A Limited Edition archive release ... either Buy Direct or via Audiophile Imports site.
Steve Topping - Guitar
Paul Carmichael - Bass guitar
Gary Husband - Drums
It is over twenty years since this improvised music - presented here for the first time - was put to tape.
It's the record of two early days in the life of our group.
We had recorded one of our private sessions at Nunhead Church Hall straight to cassette.
Paul Carmichael suggested next time we go direct to 1/4" tape, at Woodcray Farm, a studio where an engineer friend of his worked.
At Woodcray we set up quickly and didn't play for long, but what we played is what you hear ... unedited ... as the first four tracks of this CD.
We're still very proud of it.
Since those days the original 1/4" went missing, but we were able to remaster from a good copy.
The other tracks are taken from the Church Hall session that predated Woodcray by a couple of months, in which there are just a few minor cuts.
These things hold a special place for us, when as young musicians we played ...
... catching the ball, and running with it.